Video from the PM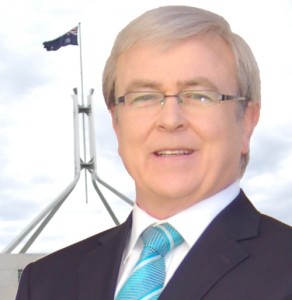 Yes, you can get Australia's PM to do a personal video message to have a bit of fun at the Groom's expense – at the wedding reception or the buck's night.  Oh!  PM stands for Party Maker, not Prime Minister, Post Meridiem or Pre Menstrual.
This could be a great way for the Best Man to avoid public speaking, too – just stand up and say, "Ladies and gentlemen, please welcome the Prime Minister of Australia…" – it could be for the Father-of-the-Bride sparing no expense… it could be even the groom himself wanting to have an official thank you to his new wife for saying 'yes' – whatever the reason, it will bring a bit of fun to the occasion!
Chris De Havilland is the very funny impersonator and I can write a personalised script – all you need do is provide me with some information on the Bride and Groom (the ribbing will usually be pointed in the Groom's direction).
The cost for a personalised video is $220 including GST (around 2 minutes duration).
Here's a link to (the other) Mr Rudd's website and here's a starter for the required info:
Information about the Happy Couple
Their names (and the names most known as)

Their ages and occupations

Where they live (and where they were born/grew up)

Education

Hobbies, interests and sports – any particular passion?

Involvement with organisations and community groups

Likeable but annoying habits

Any distinguishing features that aren't too sensitive (height, baldness)?

Any distinguishing traits (tight with money, raucous laugh, always late)?

Favourite music, poetry and/or movie

A couple of amusing anecdotes about their relationship

Their most notable achievements

How long have they been together?

First or subsequent marriage?

Any children (belonging to the couple or from a previous marriage)?

Wedding location

Religious or Civil ceremony?

Afternoon or evening reception?

Formal or casual?

Names of parents of the couple and brief description

Name of bridesmaid(s) and a bit about her (them)

Number of guests attending?

Anyone attending the wedding who has travelled a long way?
Information About You
Unless you are the Groom can I have some info about you…
Your name and age

Relationship to the Bride/Groom

Your occupation

A couple of personal amusing anecdotes
There could be a few more questions after we 'meet' – Look forward to hearing from you!